PULP SUMMERSLAM is the biggest metal festival in The Philippines and have been slamming the airwaves in Manila since 2001, making it the longest standing annual outdoor metal festival in Southeast Asia. Tens of thousands of devoted metalfans show up every year – many following the PULP tradition being dressed up in the most freaky outfits and costumes, which sets PULP apart from many other festivals in the region.
The 2016th edition of PULP SUMMERSLAM goes under the tagline COME OUT AND PLAY and that´s exactly what the TMR crew did at the venue – our reporter Aldie " Acey " Pilena focused on catching the atmosphere by hanging out with the crowds  and all the crazy fans to get the real PULP-feeling, while our photographer Val Verzosa was in front of the action on stage – capturing some awesome pics for all you Metal Rebels out there!
Many international metal acts made the super great decision to come out to play in The Philippines this year, genres ranging from rock to black/death metal – a pretty diverse lineup to suit al kinds of metal taste buds.
That said, PULP is not a death metal festival like many bigger festivals in Indonesia where you always have like 5 insanely technical brutal death bands, along with hardcore, metalcore etc –  PULP is a rock & metal festival with both indie rock and metal/deathcore-ish bands. This year´s most evil booking is Belphegor which is super smart since this diabolical hell raising metal genre is growing stronger in popularity in Southeast Asia and many fans don't get the chance to see these bands very often. So I´d say – good job PULP, thanks for bringing hell to the Philippine doorstep. Oh wait, that was another band´s slogan…
Enough of the small talk – here´s the text report from our reporter Aldie Pilena hand in hand with smoking hot pics by Val Verzosa –  TMR was for the fist time ever officially represented in The Philippines and we can't be more proud. Great job – thanks for this slamming report!
Forewords by: John Resborn
---
Pulp Summerslam XVI: Come Out And Play
Text by: Aldie "Acey" Pilena / Photos by: Val Verzosa
This year's Pulp Summerslam was a blast! That may even seem as an understatement! Man, I can't even think of a word how to describe it, really! Being part of TMR's media team got me access to experience the 16th installment of the loudest and longest-running metal festival in Southeast Asia on April 30th at the Amoranto Stadium in Quezon City, Philippines.
Progressive metal band Protest The Hero from Canada, gothic metal band Lacuna Coil from Italy, black metal band Belphegor from Austria, metalcore band I Killed The Prom Queen from Australia, hard rock supergroup We Are Harlot, deathcore band Veil of Maya, and extreme metal supergroup Act of Defiance all from USA are part of this year's international lineup; while Filipino local bands Kjwan, Razorback, Insekto Pares, Wilabaliw, Greyhoundz, Slapshock and Filipino Rock legend Joey "Pepe" Smith scorched up the stage pretty damn well! How I wish the whole TMR team and audience could experience this!
Speaking of experience, I decided to enjoy the festival with the crowd instead of spending my time at the backstage with the artists. Besides, this year's Pulp Summerslam theme was "Come Out and Play". It was priceless, mind you! Don't get me wrong. I enjoyed being at the backstage, as well, but seeing the crowd going wild, I told myself I gotta be there and experience it myself!
Kjwan and Razorback opened the festival, followed by the Muziklaban champion Insekto Pares with Pepe Smith. The crowd was at their fullest energy! The artists were pumped as well, especially seen on Volumes and I Killed The Prom Queen's set as they climbed the stage scaffolding during their sets! I personally loved Belphegor's set with all the fire happening on stage. Lacuna Coil did a very good job, too! I even squeezed myself into the middle of the crowd just to have a better look of Cristina Scabbia performing live!
Kjwan opened the festival and started to heat up the stadium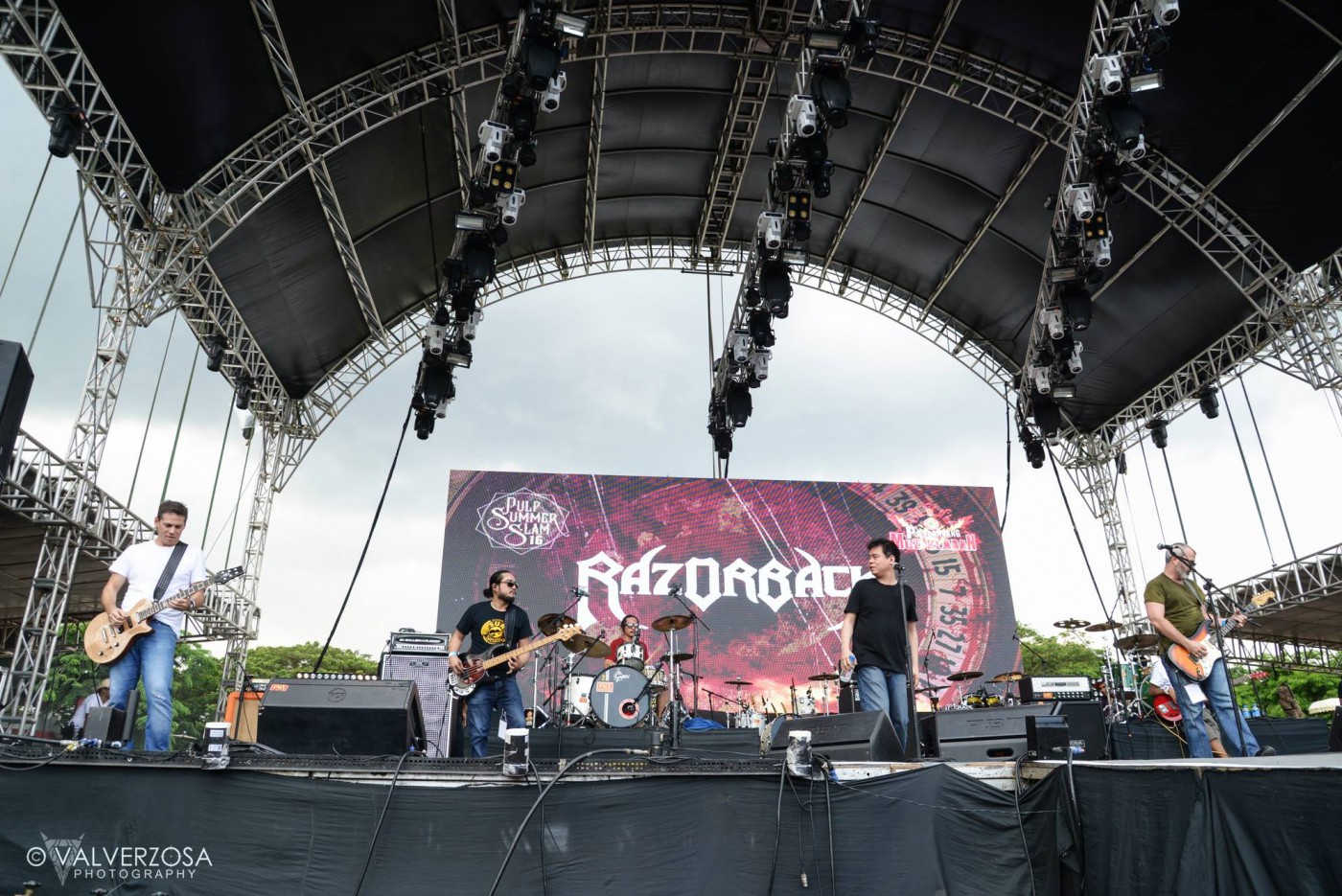 RAZORBACK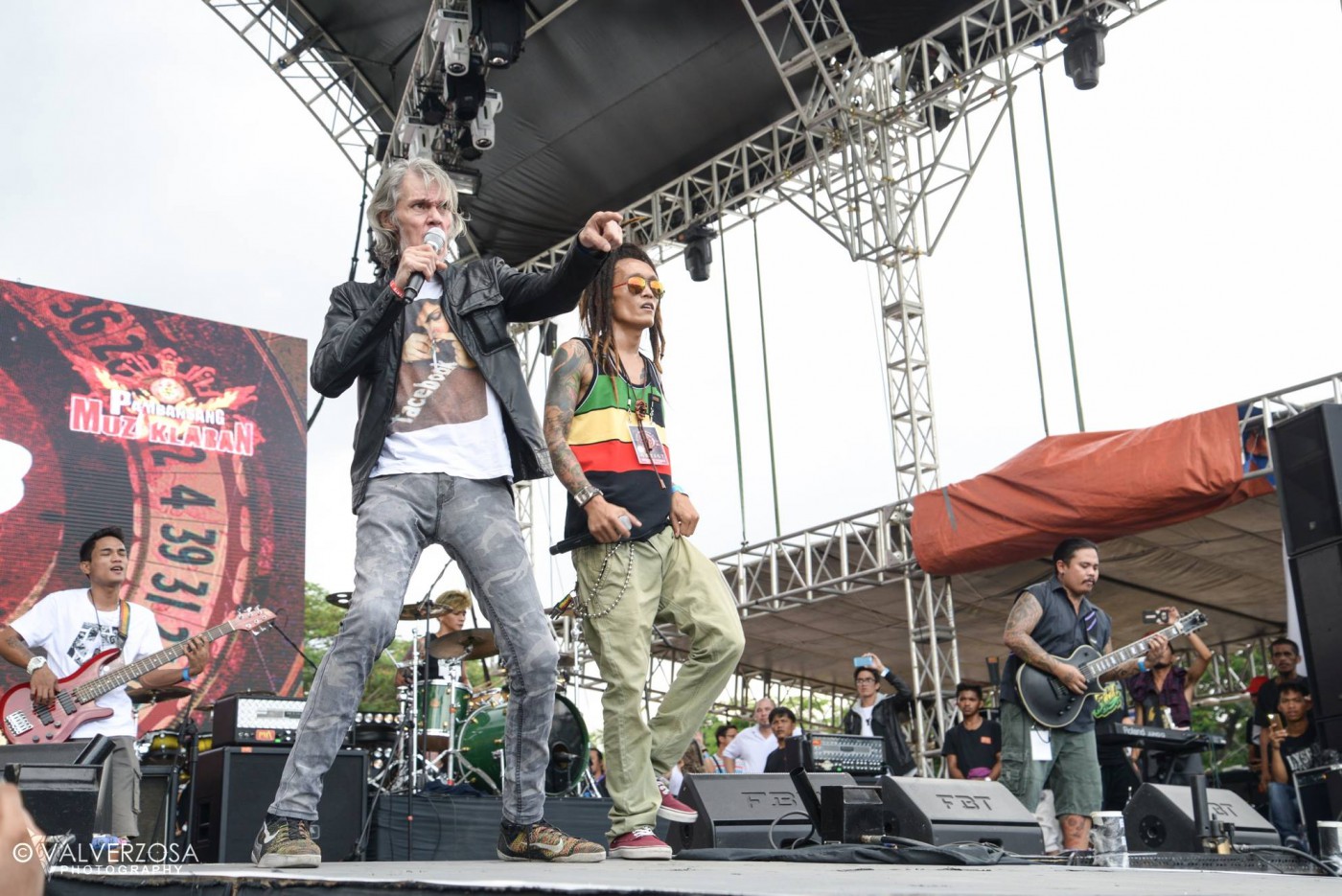 Insekto Pares with Filipino Rock icon Pepe Smith
Huge crowd already at 1pm
Volumes' hyped up performance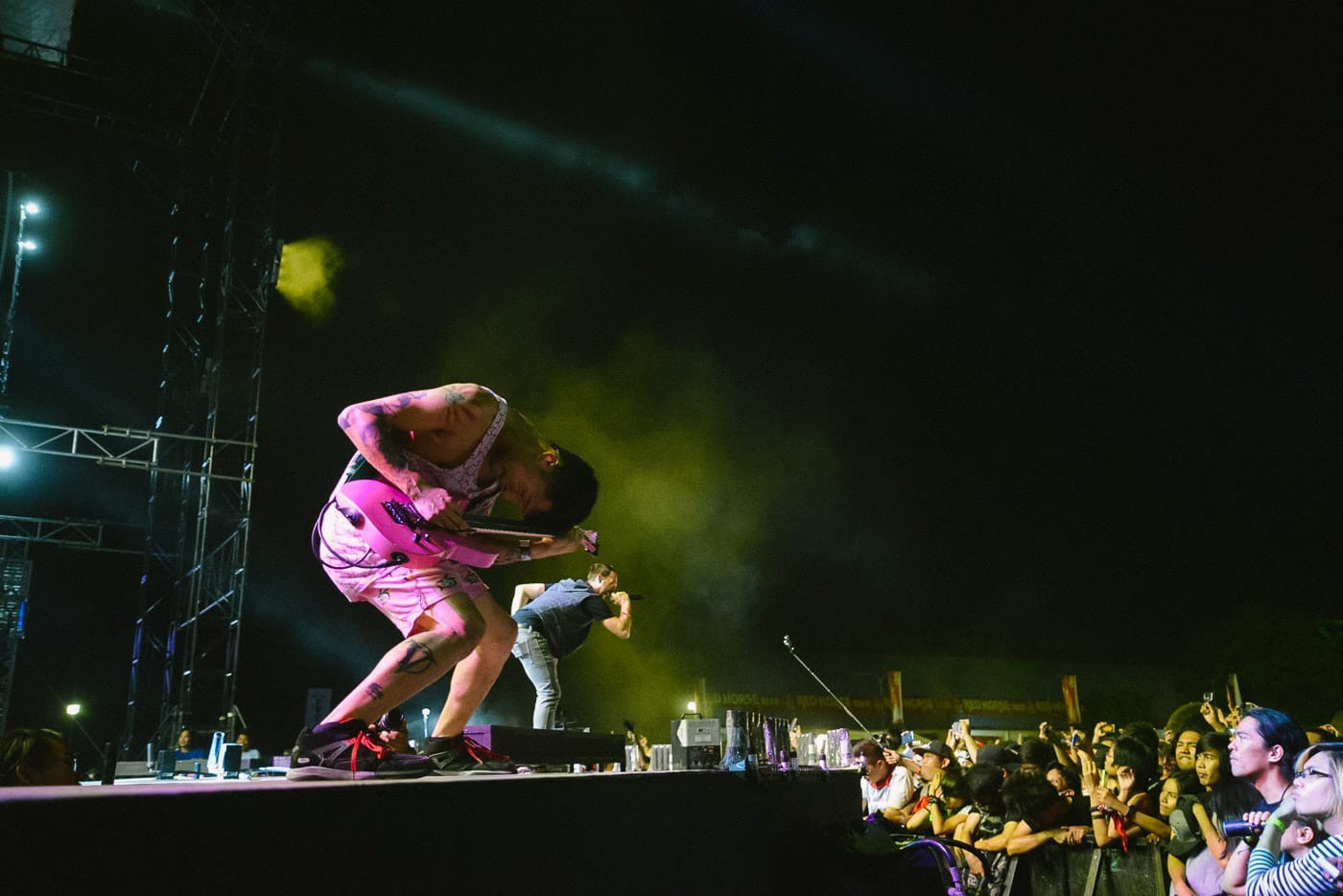 Veil Of Maya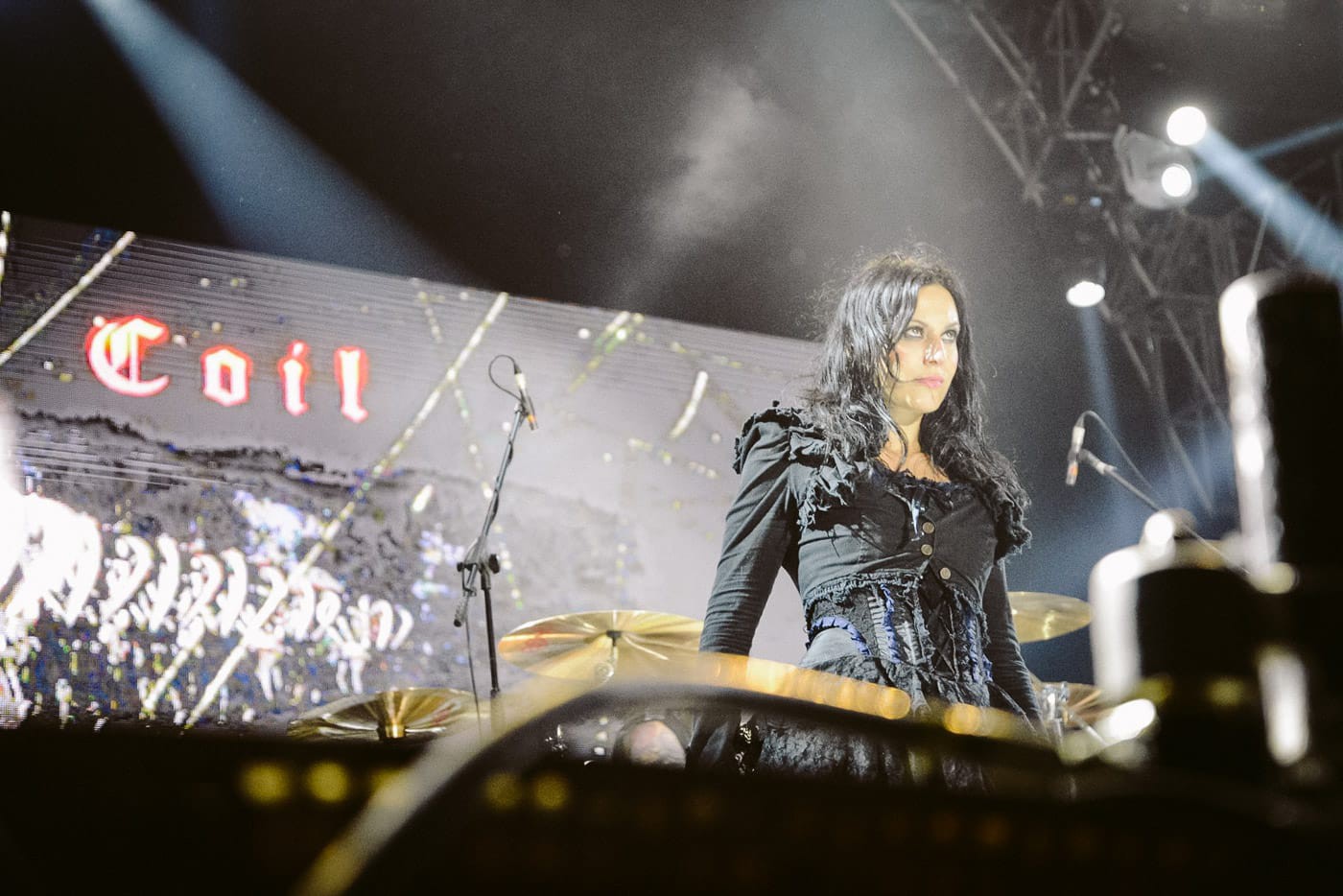 Cristina Scabbia, Lacuna Coil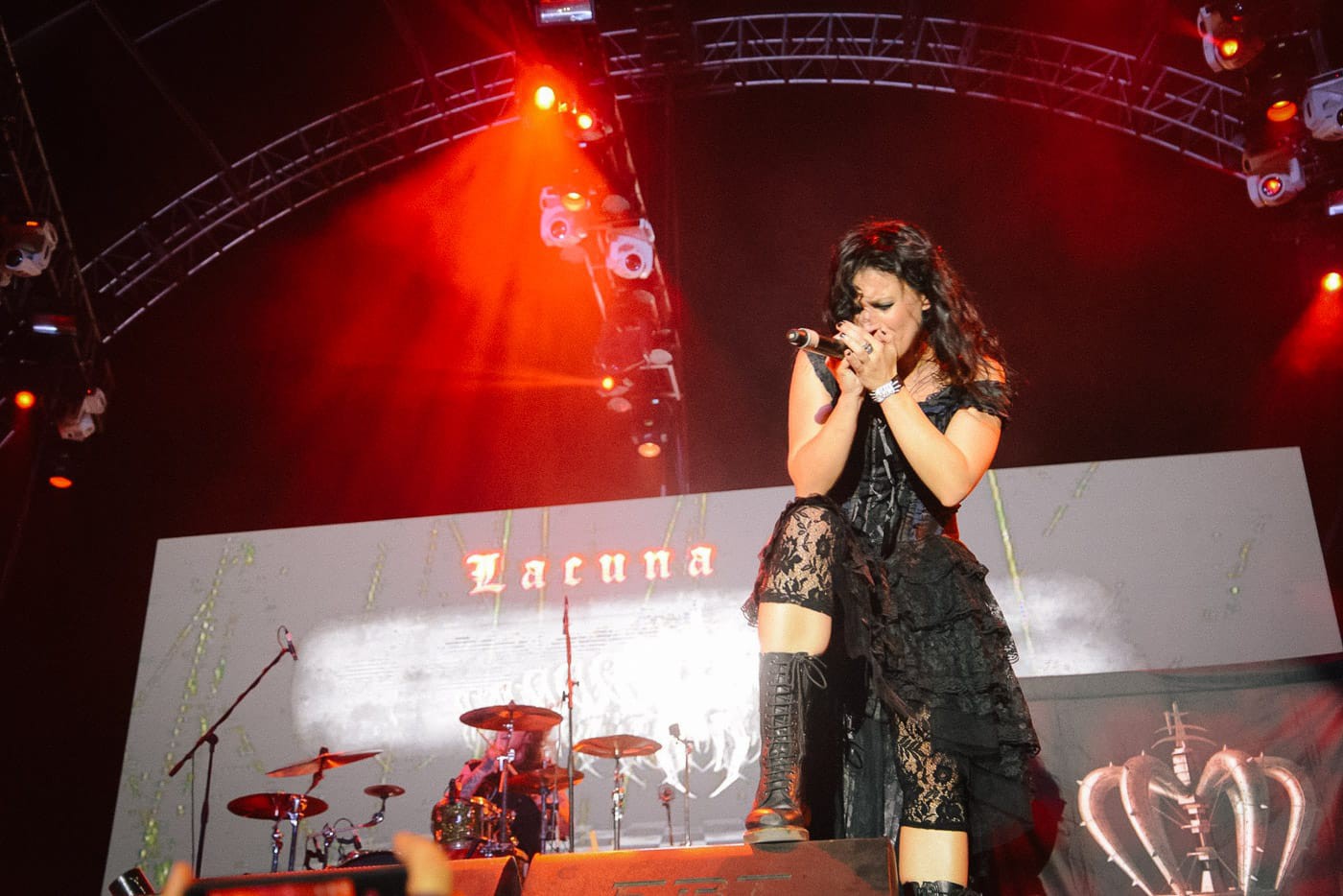 Lacuna Coil performed both old and new songs
Midnight came and I was still amused by these metalheads' energy! Wilabaliw, followed by Greyhoundz, has shaken the whole stadium. The crowd jumped to their songs without any sign of exhaustion. The energy did not seem to diminish at all and is still at its peak while the last band, Slapshock, performed. That was truly a weekend to remember (…or not, 'cause of how much beer the festival goers have consumed)!
Wilabaliw vocalist Ian Tayao's famous stage stunt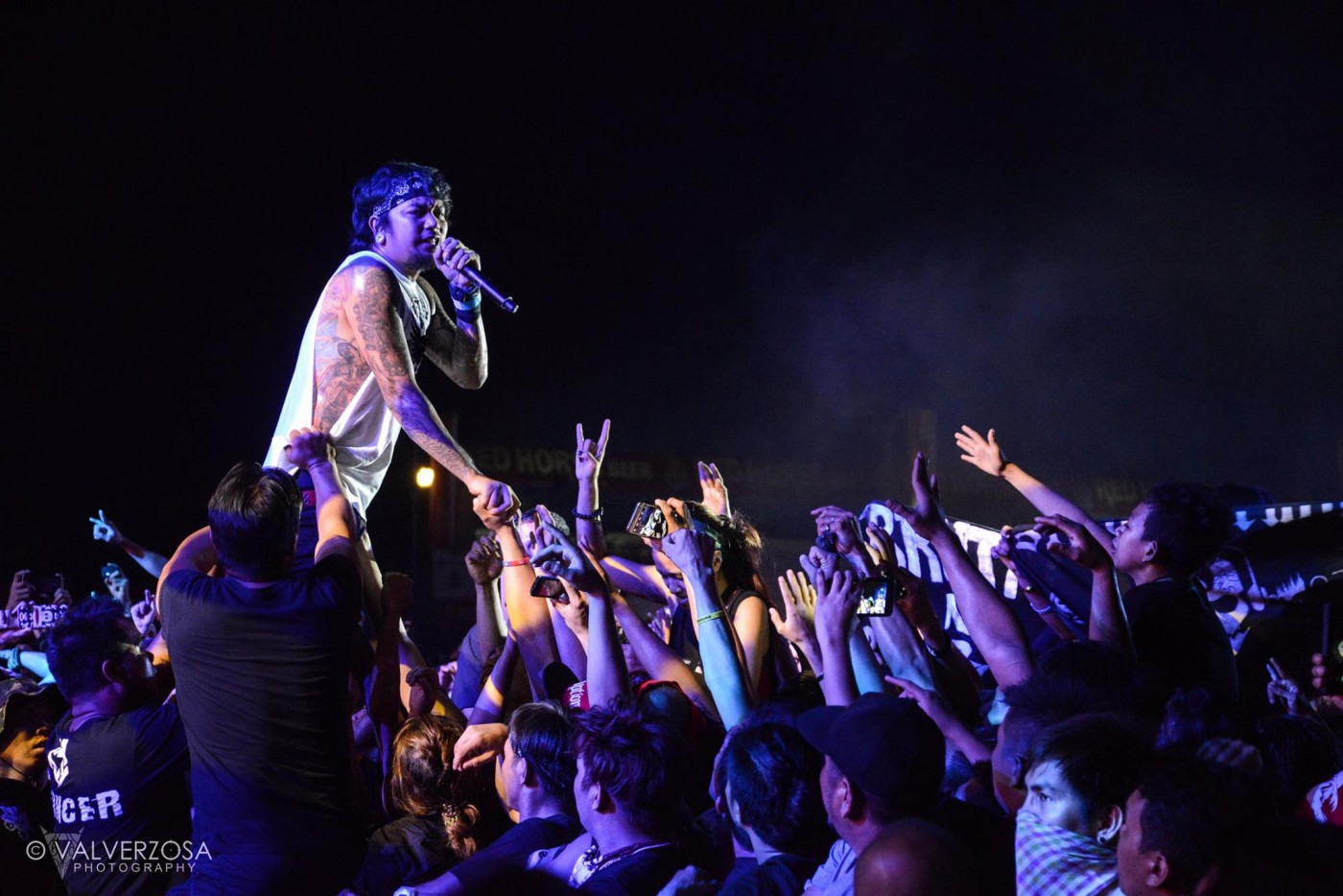 Slapshock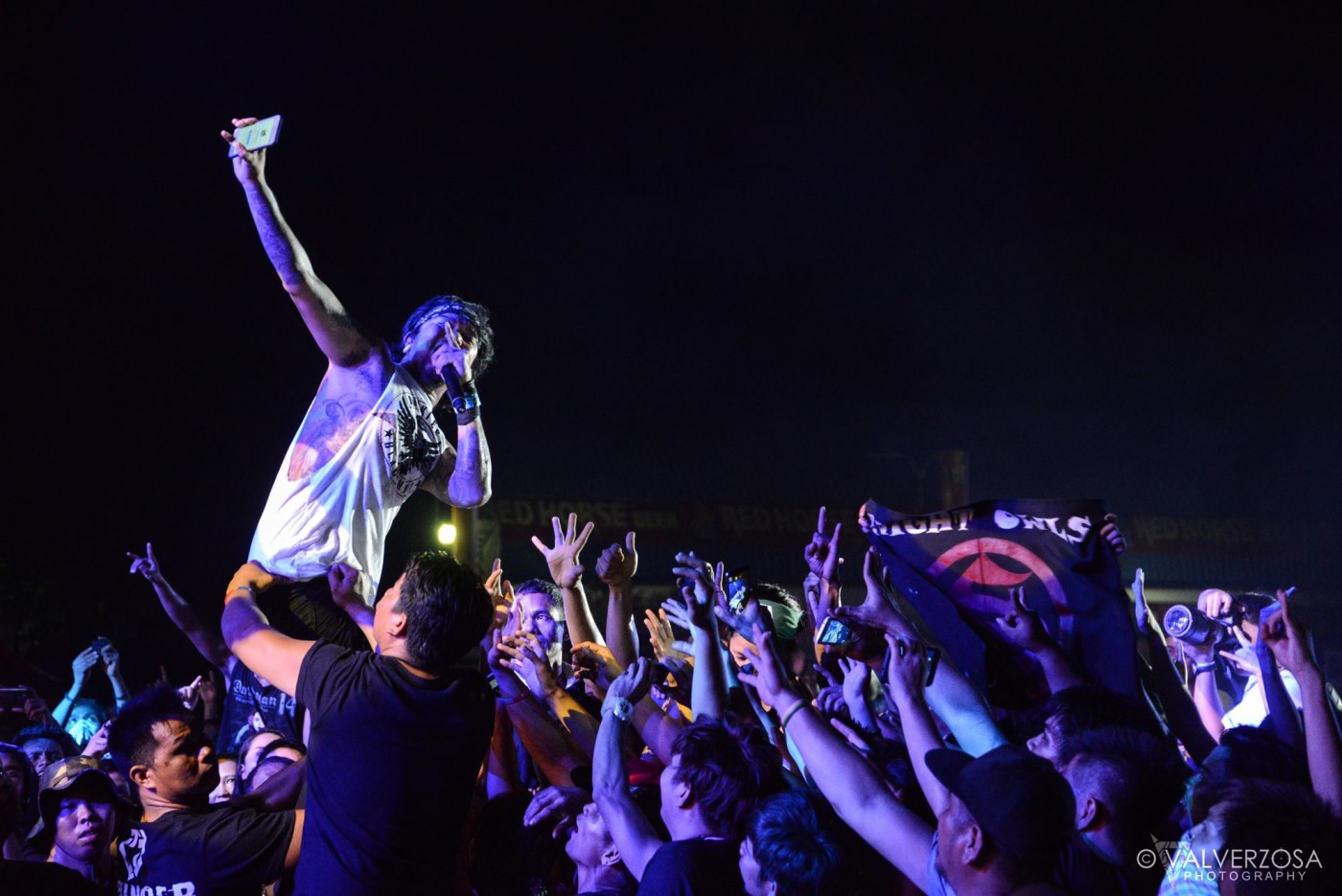 Slapshock vocalist Jamir Garcia took a phone from the crowd and took a crowd selfie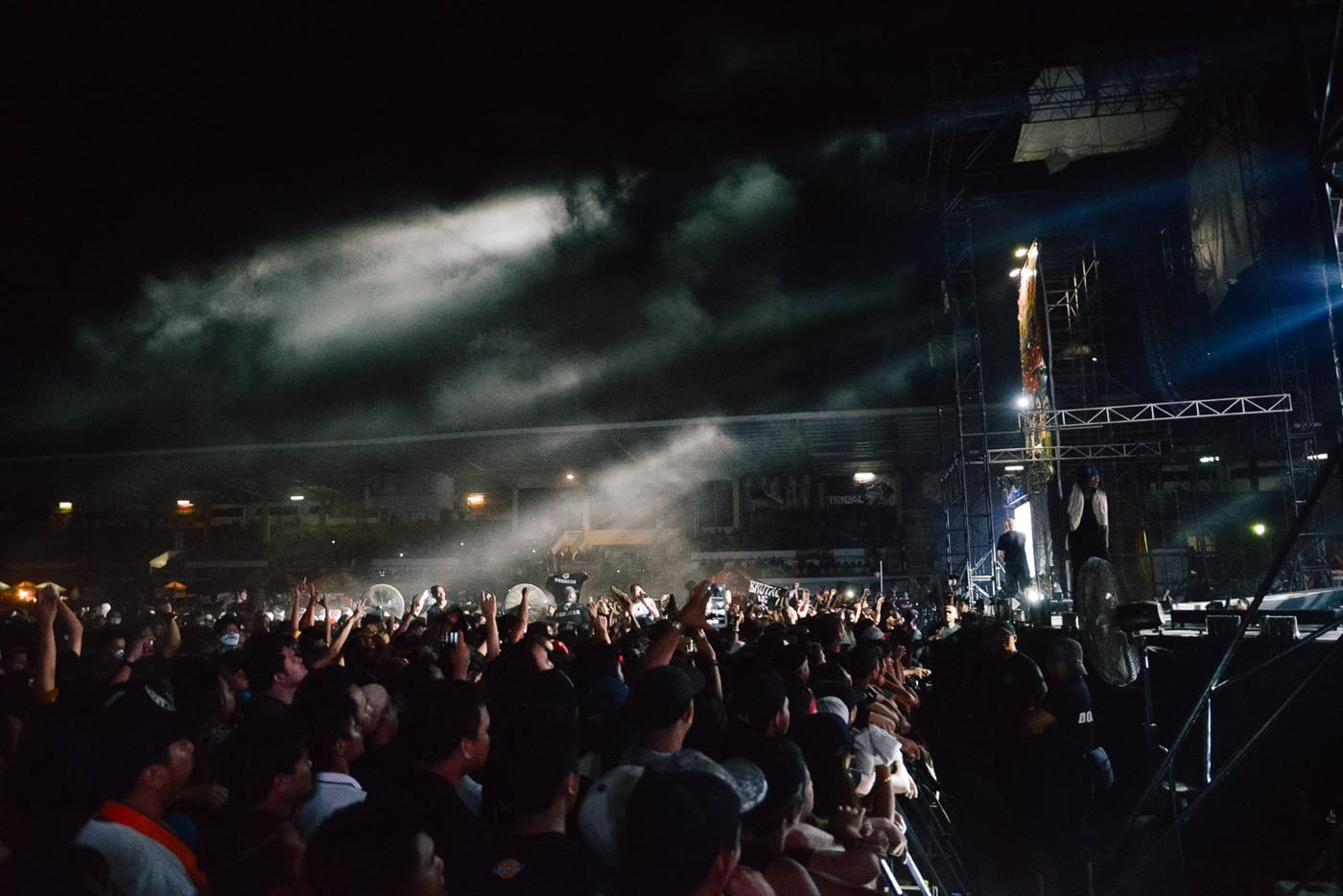 Crowd at 3am
The experience was awesome! Not only did I enjoy the music but also enjoyed talking to the people, mostly strangers, I have bumped into. It's good to be united with the music that we all love! I wish to see everyone again at the next slam! Cheers!
Check out the gallery for more great photos, all photo by Val Verzosa!