If you´re from Europe or the West, raise your hands if you know anything about the Bangladesh metal scenes. Nepal? No one? Ok, what about the Indonesian metal scenes? Oh yes, you read something in Metal Hammer about some Burgerkill band annihilating Bloodstock. This is why The Metal Rebel exists in the first place, to help promote the killer metal scenes in Asia, both in Asia and to the rest of the world.
Asia is perhaps the new frontier of metal in all it´s shapes and forms, and it´s a shame that the awesome bands from this region doesn't get more recognition in international metal music media. Yes I´m aware that many underground metal media´s and blogs features a lot of Asian releases, but what about the bigger metal medias? TMR wants to help change that. We recently did a very appreciated feature about the metal core & death core scenes in Bangkok Thailand as our first scene report, and TMR also featured thrash heroes Psyhoctron from Bangladesh and their debut album. In that feature we promised we would get back with an in-depth feature covering the birth and evolvement of the Bangladesh metal scenes, and today that promise is fulfilled.
So get your ultra black coffee ready, crank up your stereo to Psychotron and join us on a journey back to the early days of the Bangladesh metal scenes, up until the rising movement of today.
Since my own knowledge of the metal scenes in Bangladesh is very limited, I had to find someone local, preferably born and raised in Bangladesh with big knowledge of the local scenes and it´s history.
Luckily I found Zoheb Mahmud. He is a what you would call a dedicated metal head, with long experience of the local scenes, and also it seems – a huge brain bank filled with very, very detailed knowledge. Born and raised in Dhaka in Bangladesh, Zoheb is a co-founder of the PR-company Qabar – Extreme Music PR , specializing in infecting the world with extreme metal from Asia. That we like.
He´s also part of a few underground black metal & extreme metal communities, movements and zines/blogs, supporting the local scenes in and around Dhaka and across Bangladesh, organizing metal concerts and events with both local and foreign bands.
TMR did an in-depth interview with Zoheb to really dig deep into the birth of the Bangladesh metal scenes and  how it evolved into the upcoming battlefield of today. Enough said, here we go. You may start drinking your coffee now.
---
When did the Bangladesh metal scenes start to pick up and which bands, labels, movements and driving spirits were involved?
– It was back in the 80s when the Hard Rock/Heavy Metal band "Waves" was formed. The band was originally formed in Germany in December 1981 by some Bangladeshi youngsters. Later, they returned to Bangladesh in 1983 and disbanded in 1985. They took it around 10 years to get back and then released a Studio Live Album "Purono Smriti". Anyways, we have not yet seen any activities of Waves after 1996 apart from a re-recorded version of their studio live album.
The most important phase can be regarded as the mid 80s; after the emergence of bands like Rockstrata, Warfaze, In Dhaka and Aces – hard rock/heavy metal music started to spread a little bit across the country. Rockstrata and Warfaze's self titled albums actually paved the way of Bangladeshi Heavy Music. Warfaze is currently one of the most renowned bands in the music scene of Bangladesh, whereas Rockstrata disbanded after releasing their influential self titled album and then recently have re-started their activities, released sophomore album and done a comeback gig.
There was no metal music based record label back in that time. Yet, Sargam – a mainstream music label – released the debut full lengths of Rockstrata in Dhaka, and a few releases of Warfaze. We currently have a few metal music based labels but still none of them have done something significant.
We need to mention the name of "Rainbow", a music store that has played a vital role to distribute the foreign Rock/Metal albums to the local people. The shop is still active, but back in its glorious days, it used to be a great source for the music listeners to discover new music. It was also a place where musicians and listeners used to congregate and hangout.
Did anything special happen to sort of ignite the scenes?
– Back in the late 90s and the early 2000s a few musicians, producers and dedicated folks came out to do something significant for the new born independent artists of Bangladeshi Rock/Metal scene; releases of some compilation albums with different bands and full length albums of bands, occurrences of different underground based rock and metal concerts etc.  had brought a new revolution in the scene.
"Bands like Artcell, Cryptic Fate and even Aurthohin played an important role to shape the heavier music to a new level."
With their Progressive Rock/Metal music, Artcell is definitely the most important bands of this era, and now have become one of the most fan favorite bands in the entire music scene of our country. Record label G-Series, producers like Isha Khan Duray, Imran Ahmed Chowdhury Mobin, Pop/Rock guru of Bangladesh Azam Khan, Shumon – vocalist/bassist of Aurthohin, Iqbal Asif Jewel – guitarist of the legendary rock band "Miles" and many people put a significant role to promote the new bands.
A television program "Rock Link" used to promote these newly emerged rock and metal bands of the country. The program was hosted by Shumon (Aurthohin) and Jewel (Miles).
Later on 2007, D-Rockstar, a band hunt competition took place in Television Channel. Powersurge, a thrash metal band won the competition by surpassing the other competitors (there were only a few metal bands in the competition, most of them were Rock bands). The competition was a mainstream approach anyways.
Powersurge played a very important role to popularize the thrash metal genre across the country, now thrash metal is the most popular genre in Bangladesh.
Other thrash metal bands did exist before Powersurge. We can name Poizon Green, they are mainly a groove metal act, but they have done groove/thrash styled music before Powersurge.
That late 90 and early 2000´s scene had not done much for the extreme metal scene, and most of the metal bands of that era used to do both metal and non-metal tracks. Actually none of the famous people involved in the mainstream scene have done anything remarkable for the extreme metal scene. Bands like Bloodlust (first Death Metal bands of the country), Barzak (later known as Orator), Weapon (yes, the renowned black/death metal band from Canada, but they started their initial journey in Bangladesh) were totally unknown on that time.
Severe Dementia (one of the most important extreme metal bands of the country) crossed all odds despite being a Death Metal band, they toured in India, Nepal and also released their debut EP internationally from an Indian label on that time. The guitarist of the band, Saimum Hasan Nahian who also plays guitar in Powersurge, is the founder of Metal Morgue – an extreme metal organization that has organized a few remarkable extreme metal gigs.
The most important phase for the extreme metal scene appeared after 2010, when Orator (Death/Thrash) released their EP via a French label and at the same time Manzer (Black/Thrash metal from France) toured in Bangladesh in Pictavian Tandava (first ever metal gig in Bangladesh to feature an International band). Later, the organizers of the gig formed Primitive Invocation, an extreme metal platform that organizes gig, runs distro, publishes fanzine etc. Primitive Invocation later organized some memorable metal gigs featuring both local and international acts, bands like International acts like Impiety, Funerus, Abigail, Infernal Curse etc. all performed in the gigs organized by PI.
PI started "Banish the Posers Fest" – the most renowned metal fest of the country and a prestigious event in South Asian Extreme Metal Scene. "Banish the Posers Fest" will be having its 4th edition this October, Riverge from Japan will be headlining the event.
"Orator is definitely the most important acts in the extreme metal scene of Bangladesh along with Severe Dementia."
Orator toured in several countries and shared stage with some big names of the International Extreme Metal scene, but they missed out the opportunity to perform in Maryland Death Fest because of visa issue. They are currently signed to Pulverised Records. Recently lot of organizers are arranging the finest extreme metal gigs with local bands.
Which genres are the most popular in Bangladesh, and which cities has the most strong scenes?
– Thrash metal is the most popular genre in Bangladesh. Thrash Metal scene in Bangladesh is very strong for this reason. After thrash metal, we can talk about the MTV styled metal (Nu, Commercial Metalcore) which are mostly listened to by the audiences who are driven by the hype/trend. Death metal has a fan base as well.
Actually Dhaka has 90% things related to metal. Rest of the things can be witnessed mostly in Khulna, Sylhet and Chittagong. The scene of these cities are just growing up, and Khulna is the strongest among them.
How is the overall music climate in Bangladesh?
– People mostly rely on the popular bands, underground and extreme metal bands have less opportunity to rise up in the local scene, so they are trying to do something internationally. A lot of people are running towards the trend. One thing is true, at least the music of renowned Rock/Metal bands' have never completely faded away despite the current trends. We are seeing people becoming interested in old school and extreme metal music at the moment.
Which are the biggest bands in the different genres of metal, hardcore and punk?
– No hardcore or punk band ever existed in Bangladesh. It will be very hard to find a punk music listener in Bangladesh. I am a huge fan of punk music and its offshoots. I have seen bands to do modern alternative rock diluted pop punk music, that's it.
"

Prog Metal: Artcell
Hard Rock/Heavy Metal:  Warfaze, Rockstrata, Cryptic Fate
Thrash Metal : Powersurge (They are more like Modern Thrash Metal). In terms of of old school thrash metal experience, Enmachined is the fan favorite.
Death Metal: Orator, Severe Dementia
Black Metal: Nafarmaan
Symphonic Metal: De-Illumination
Groove Metal: Poizon Green, Trainwreck
Metalcore: Suicide Season
Power Metal: Funeral Anthem
Modern Melodic Metal: Mechanix
Melodic Death: Ionic Bond

"
Why do you think that punk never existed in Bangladesh?
– I can say that only a handful number of people have listened to the hardcore side of punk music. Just recently, some people have listened to the basic bands of hardcore punk, grindcore or crust punk in our area. It has only happened because a few of us are sharing the music on Facebook, and the Pakistani Grindcore/Crust Band Multinational Corporation has actually influenced some people to listen to hc punk/grindcore. I know a bunch of people who listen to heavy music, and in fact I have been seeing them since 2004.
I can also say that I have seen a lot of people who can be coined as metal addicts, extreme metal addicts. But Punk addicts? I dare if I can name 5 people. But yeah, we don't have any band that does actual form of punk music, if we do have a decent punk band, then things might be changed.
Yet, when it comes to pop punk, and even metalcore (the MTV version of commercial metalcore), lot of people do listen to these. Another thing is, most of the people here think that punk means pop punk – bands like Green Day, Off Spring etc.
Are there any rivalry between the different scenes and cities, or are they all united?
– No rivalries between any cities. People from mainstream metal scene probably can' t guzzle the heavier things that are being done by the Extreme Metal musicians, and at the same time Extreme Metal people sometimes get pissed off because of the sell out activities of a few mainstream musicians. It is not rivalry actually, just the difference in taste. Of course, personal rivalries exist, and existence of such kinda personal rivalry is obvious.
Do the metal scenes get any support from the local governments or authorites and local media?
– No support from Government. I doubt if the Government knows about Metal music at all. Yet, bands like Artcell, Warfaze, Cryptic Fate, Powersurge, Mechanix etc. are popular and they do get support from local medias. But, our extreme metal scene was never supported by local medias (maybe  one or two short articles were featured in local medias, that's it).
Even Metal Injection, Ironfist, Rockhard Magazine, Legacy, Rolling Stone India, Bravewords, No Clean Singing and a lot of foreign media platforms are starting to write about Bangladeshi extreme metal scene and the bands, but our local media did not even bother to take a look here.
Unfortunately that sounds familiar to many metal scenes in Asia. Do the metal scenes suffer from oppression and prejudice from the police, authorities and the general public?
– General people have a negative perception on metal musicians and fans, yet a few trendy people like a few mainstream metal acts, but they have sheer contempt towards the extreme sides of the metal music. A lot of people give an awkward look when they do see metalheads with long hair, demonic t-shirts, vests and boots. And of course they think that metal is all about shouting and making noise hahaha.
We can hardly pull the gig after 9 PM, the venue authorities keep forcing us to stop the gig. Once a police started messing up with us when we were having the first edition of Banish the Posers Fest. Recently, Eluveitie came to perform in Bangladesh, and at the eleventh hour the police declined to provide any security assistance to the band. As a result, Eluveitie could not perform. Terrible incident!!!
In recent time, a few other rock/metal related concerts were cancelled because police did not give them permission, whereas, concert with mainstream Bollywood/Indian artists are getting the permission. Ironic, isn't it?
Despite all this, is it easy to arrange gigs and festivals? How many people normally turn up at gigs and festivals and in which kind of venues are they normally held?
– Not easy to organize gigs, lack of venues is a big issue. The indoor/auditorium does not let us to continue the gig after 9:00 PM, even some auditorium has set up the restriction to end the gig before 08:00 PM. When you are trying to organize gigs with bigger bands, especially in the open air, you need to maintain a lot of formalities. And things have become tougher since the last few months. Underground metal gigs happen inside small auditorium, Russian Cultural Center and National Library Auditorium are two popular places.
" Considering the DIY based metal gigs, you can expect around 200 people when the bands are good enough, and when mainstream gigs happen, mixed with both mainstream rock and metal bands, thousands of people show up. In some open air concert, I have seen more than 15k people. "
Do the metalscenes work with sponsors for the gigs and festivals, or is it DIY?
– Underground metal scene is totally DIY, a few gigs rarely can get some lump sum amount or facilities from the sponsors, not a big deal. The amount is very tiny that not even the 5-8% costs meet up.
Is there any communication and teamwork with the Indian scenes?
– Yep, pretty much. Indian band Purgation and Chronic Xorn came to play in Bangladesh twice, Purgation also played in Banish the Posers Fest. Some other metal bands were invited, but they had to cancel for their inner problem. Bangladeshi band Orator played in India multiple times, and they even played in Bangalore Open Air. Severe Dementia & Homicide also played in India.  A lot of Bangladeshi bands were invited by the Indian organizers, but they could not perform because of Visa issue.
Any Active local Bangladeshi metal media / webzine?
– There ain't much. There is Venustas Diabolicus, a black metal webzine, but it is small yet quite global. Bangladesh have only a few black metal bands, so it mostly comes up with contents related to international black metal music, and writers/contributors are from different parts of the world. Only edition of Primitive Invocation fanzine was published a few years ago, it is no more active. There are random metal blogs, not that active. Heavy Axe Media, Exorcist – The Extreme Metal Blog of Bangladesh.
There are some other music blogs that often publish mostly mainstream metal stuffs, nothing significant. A music blog named Mega Insane used to publish both UG and mainstream metal contents, but they are not active at the moment.
http://vdhordes.org
https://www.facebook.com/vdhordes
http://heavyaxezine.webs.com
https://exorcistweb.wordpress.com
Do the metalscenes have a strong Community in Bangladesh?
– There are some communities, and a few of them are really strong. I want to name these, they are more like a platform rather than community, but obviously making everything stronger than ever:
Primitive Invocation
Metal Morgue
Bangladesh Metal Alliance
Venustas Diabolicus
Metal Monger Records
Graveyard Metal
Noise Factory
Old Serpent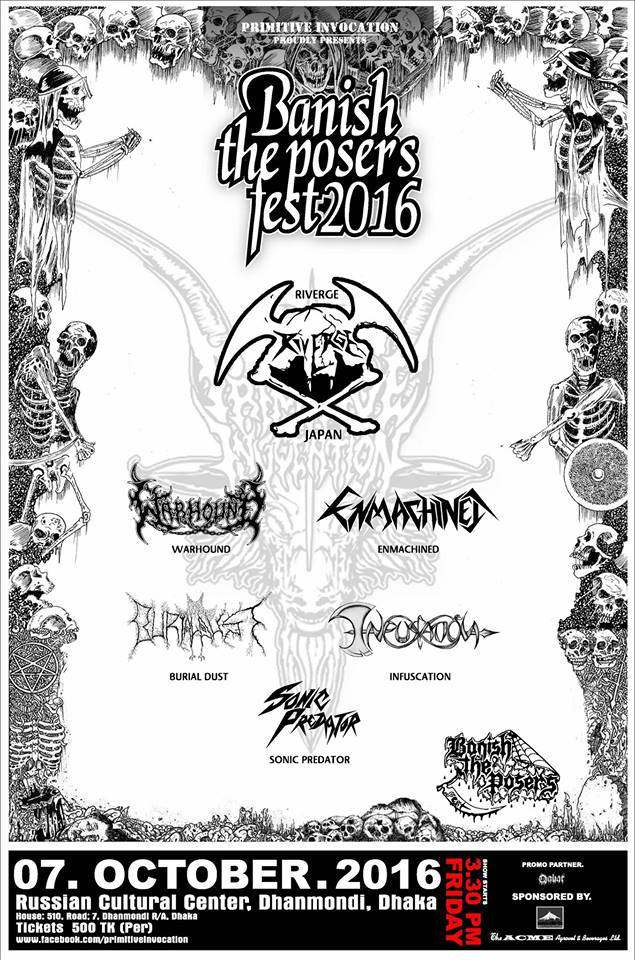 So what do you hope to see in the Bangladesh metal scenes in a near future and where do you see it in 10 years from now?
– Since 2010, we have rapidly started to break a lot of boundaries to reach to the International scene, which was never seen before in the scene.
I think after 10 years, if bands like Orator, Severe Dementia, Nafarmaan, Enmachined, Warhound, Surtur, Eternal Armageddon, Thrash, Burial Dust (just naming a few) exist and can at least add two to three full lengths in their discography, then Bangladeshi metal scene will probably become one of the strongest ones in the Asian scene, at least in terms of generating great bands.
I am expecting some other new bands to rise up meanwhile. I don't think the mainstream heavy metal bands of the country will be able to reach to the international scene even after 10 years, because they do not even try, and if you do not try then nobody is going to come to your home to highlight you. In rarest case it might happen, but it can't be expected.
But again, if these underground bands set a platform, then maybe a few of the mainstream bands will be able to get the fact that they need to reach to the international scene.
" We will be needing proper metal labels in our country, at least two good labels.  Meanwhile, we will be needing more organizers who can bring quality foreign bands, and we will be needing more non musicians to get involved in the scene. "
You know what, the extreme metal scene is our hope, it is mostly having has the possibility to become a strong force in the international scene. I think only a few dedicated, strategic, and hard workers can even earn some portion of their living by getting involved in the metal scene; I am doing it actually.
More than half of my earning comes from the metal sector (mostly the PR activities), and I am not even in the mainstream scene. I think a few people from the extreme metal scene will be able to earn their living by following strategies and yeah, they will be even maintaining the quality of their works at the same time.
Thank you so much Zoheb for your super detailed information and your passionate answers, and thanks for helping TMR share this very interesting and valuable knowledge to all the Metal Rebels out there! I wish you all the best of luck and hope to see some great bands from Bangladesh break out and start touring in Asia.
– Well thanks man, but your support is fucking immense haha!
---
So, now that you´re all experts on the Bangladesh metal scenes you should pack your bags and get your ass over there – this scene is on the rise. As a Westerner, a Swedish lad keeping warm with Jägermeister and fur, it gives me great hope to see metal alive and well in the most remote places. It means that metal, not only in terms of music but as a vehicle of expression, creative freedom, identity, rebellion and even fucking therapy – is unstoppable.
No matter current trends or how geographically disadvantaged the followers are, this music is everywhere. It´s an incredible power to be reckoned with and I really hope that one day when I follow my daughter to the local record store, she´ll be able to get the latest metal from places like Indonesia, Singapore, Thailand, Nepal or Bangladesh.
Just to name a few of all the scenes in the world that´s coming at you like a freight train.
A selection of links
WARFAZE
ROCKSTRATA
ARTCELL
SEVERE DEMENTIA
ORATOR
POWERSURGE
ENMACHINED
NAFARMAAN
TRAINWRECK
IONIC BOND
DE-ILLUMINATION
POIZON GREEN
FUNERAL ANTHEM
CRYPTIC FATE
PSYCHOTRON
SURTUR
SUICIDE SEASON
---